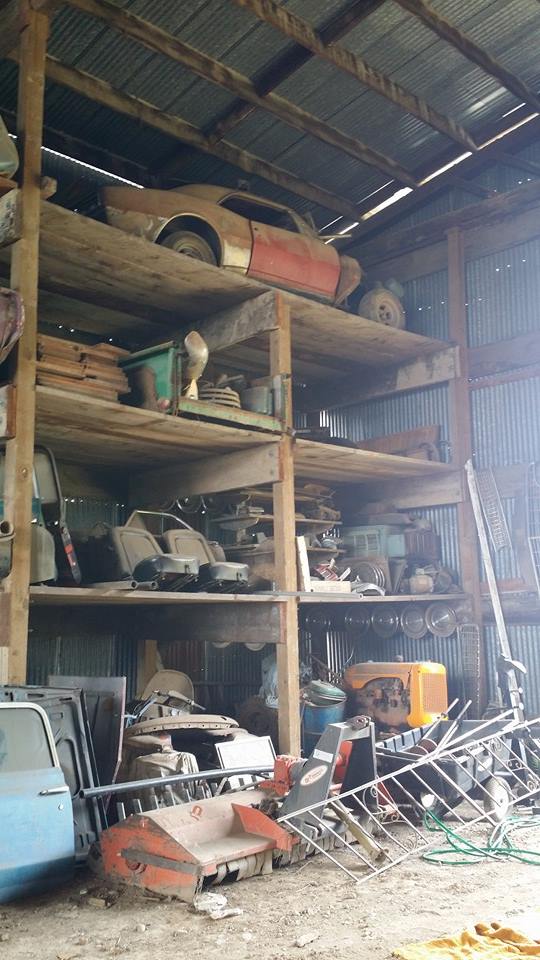 _________________
Get off the computer and get to work on your car

National President




Number of posts

: 7905


Registration date

: 2012-04-08


Age

: 98


Location

: Looking in your window



I know, and why do they always put the best stuff on the top shelf where they know no one can reach it! And never a sales associate around to help you either.
Scrounger




Number of posts

: 715


Registration date

: 2011-11-12


Age

: 49


Location

: cincinnati



He OBVIOUSLY has an off road forklift with 8 foot forks.
Hot Rod Builder




Number of posts

: 603


Registration date

: 2011-03-20


Age

: 55


Location

: Western NY



It looks to me he or she put it up there to have something to talk about when they brought guests or family into the barn. Or he ran out of storage space for his car, or he didn't want his wife to find out he had another one.  

It looks as if the seats are on the 2nd shelf. I've never seen a older car on any high rise shelf before.
Although back in the mid 90's, me and another friend from work picked up a Mazda Miata, shrink wrapped it and put it on one of our high rise shelves in our warehouse. This fella worked in the office and was always playing games with most of the crew, including the Women who worked in the office. We tried talking to him and it seemed the more we talked, the more he messed with our personal vehicles. I had just bought a new car and he put vasoline up under the door handles and deflated all my tires on my car.
I decided to take action and when he got off work that day, we all deliberately left 15 minutes early. Of course I get a call from the Florence Police Dept asking me if I know anything about the car and of course I couldn't tell a lie to a Cop. I told them where it was and the Officer asked me if I was joking. I told him what he was doing to fellow employees and we had enough.
Fortunately we didn't get into any trouble from the law, but when I walked into work the next day, everyone clapped and the fella never bothered any of us again.  

Scrounger




Number of posts

: 664


Registration date

: 2010-04-19


Location

: Florence, Ky



This looks like something Jeff Gemmer would do!
Hot Rod Builder




Number of posts

: 971


Registration date

: 2009-01-18


Age

: 40



Chief mechanic




Number of posts

: 335


Registration date

: 2013-03-20




---
Permissions in this forum:
You
cannot
reply to topics in this forum